Let's pay attention to statistics. If you have a white car, you are a woman and you are reading us on Wednesday, take your eyes off for a few minutes from your cell phone and take a quick look at the state of your car. We do not want to scare you but it turns out that these are – some – of the greatest numerical risks for your vehicle to end stolen.
This week, the Mexican Association of Insurance Institutions (AMIS) published its car theft data.
According to their statistics, in 75% of cases in which theft of an insured vehicle was reported. They also found that people between 36 and 50 are the most likely victims and incidentally, they reported that white cars are the most stolen. The most popular day to steal vehicles is Wednesday.  
What is the most stolen car? The NP300 a Nissan PickUp with 5 thousand 112 reports so far this year.
Two other vehicles from the same company follow: the Tsuru and the Versa . Completing the list of the most stolen car in Mexico, there is the Aveo (Chevrolet), the Vento (Volkswagen), the Sentra (Nissan), the Jetta (Volkswagen) and the Honda CRV. In the Top Ten, there is also a Kenworth tractor unit and the 111-250 motorcycle of the Italika brand. 
Of course, you have to be careful because this does not mean that these cars bring a target it could go hand in hand with the detail that they are some of the best selling cars in the country.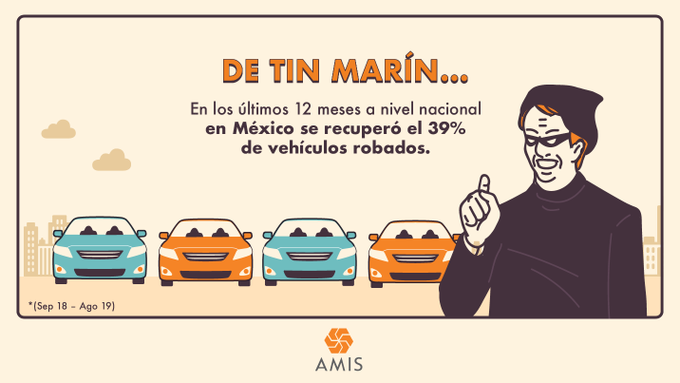 The Mexican Association of Insurance Institutions (AMIS) also made a separate list of the car with the highest percentage of robbery with violence in our country.
In that worrying list, the KIA Sportage appears with up to 575 reports of violent assaults. It is followed by the Mazda CX5, the Volkswagen Vento, the KIA River, and the classic Seat Ibiza.
According to figures published this week, of the more than 88 thousand cars reported stolen, only 39 percent have been found … which means that three out of every five stolen cars are not seen again. According to his research, more than 70 percent end up sold. 
Source: sopitas.com
The Mazatlan Post