o open AS/COA's 2019 LACC Mexico City conference, AS/COA President and CEO Susan Segal spoke about how investment and trade can help the new Mexican government achieve its strategic goals. In addition to the 5 million U.S. jobs that depend directly on trade with Mexico, Segal highlighted that in January and February of 2019, Mexico was the United States' top trade partner. She emphasized the importance of one of President Andrés Manuel López Obrador's priorities: development in the south of Mexico. As Segal explained, expanding investment to this region will create a truly integrated and even more competitive in North America. As she explained, the AMLO government plans to expand this development to Central America as the primary sustainable solution to reducing the migration flows in the region.
Next, Finance and Public Credit Minister Carlos Manuel Urzúa spoke about the challenges of the global economy and the principal risks associated with escalating trade conflicts. Urzúa highlighted opportunities for investment in infrastructure projects through public-private partnerships, notably the Mayan Train and an interoceanic corridor that will connect Mexico's two coasts. Urzúa said that the railway will transit both cargo and passengers and will receive the majority of its funding through private investment in each of the seven segments along its roughly 930-mile route. "I want to reiterate that Mexico's commitments will be guided by the principles of austerity, honesty, and fighting corruption," the minister said in closing.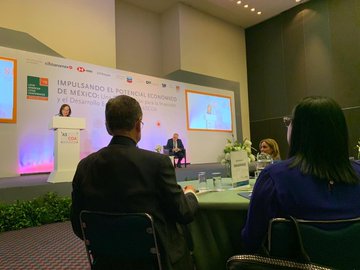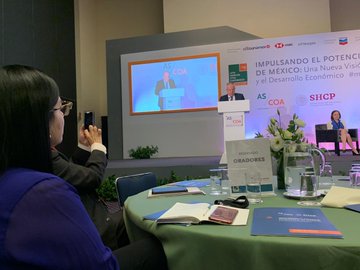 Deputy Minister of Finance and Public Credit Arturo Herrera Gutiérrez then spoke with J.P. Morgan's Benjamin Ramsey about driving social and economic development. Over the last 35 years, he said, Mexico's per capita GDP growth is just 0.83 percent, the lowest rate in Latin America after only Venezuela. Moreover, there are stark inequalities within Mexico: the per capita GDP in the capital is seven times that of the state of Chiapas. He highlighted both the need to preserve macroeconomic fundamentals while also working to improve rural productivity and access to credit. Herrera also spoke at length about what he called "one of the ugliest sides of inequality in Mexico": the gender gap in workforce participation and earnings. "It's a social problem of fairness and equality, but also of economic potential," he said regarding workforce inclusion for Mexico's women.
Eradicate corruption, boost economic growth, reduce poverty, and improve security: those are the four main objectives of the AMLO government, said Minister of Foreign Affairs Marcelo Ebrard. One way to increase economic growth is through innovation and trade, he said, and provided an overview of Mexico's various trade initiatives aimed at building an integrated and competitive region. "We have the structural and strategic components to strengthen our relationship with the United States," said Ebrard, commenting on efforts to ratify the USMCA. Ebrard highlighted the success of other integration accords, such as the Pacific Alliance with its 52 observing countries in the eight years since its founding.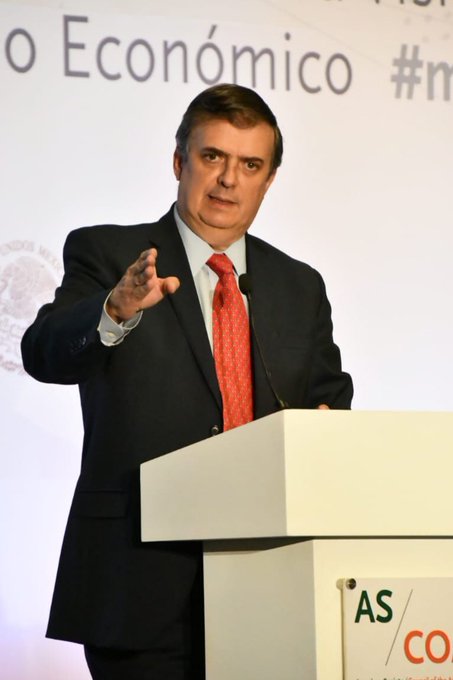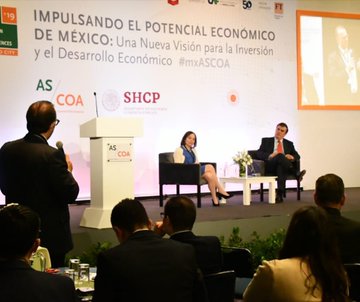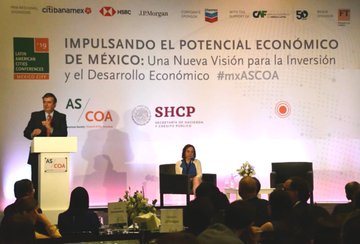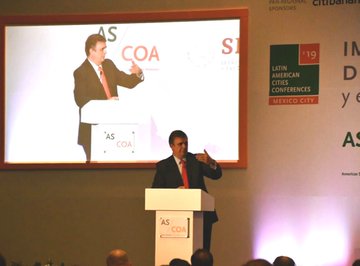 During his presentation, Carlos Salazar Lomelín, president of the Consejo Coordinador Empresarial, spoke about the challenges facing Mexico when it comes to having not just more investment, but making a more productive use of that investment. "One reason why we have so few investment projects is because Mexico's systems are plagued by informality," he said, pointing out that investment levels have been stuck at around 20 percent of GDP for years in the country. For Salazar, one important solution involves confronting corruption, and he applauded the fact that the López Obrador government has made that its top priority.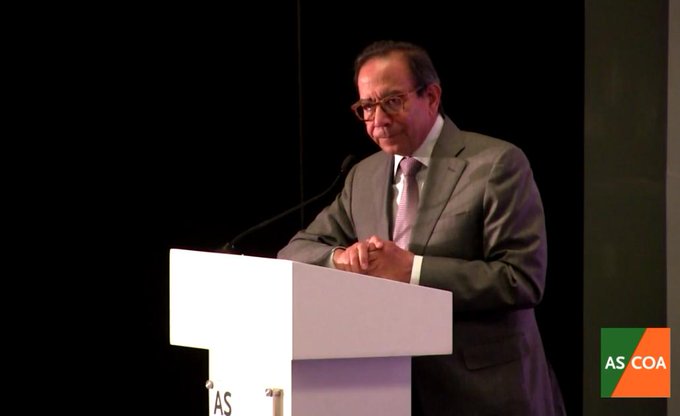 On the first panel of the day, executives discussed private investment and business opportunities for the next five years in Mexico. Responding to a question from moderator El Financiero's Enrique Quintana about what changes he'd like to see in the energy sector, AES Mexico CEO Jose Arosasaid, more than anything, he'd like for things not to change, referring to the "titanic efforts" made to pass the energy reform and saying it's important not to undo the progress made through so much effort. Lorenzo Gonzalez Bosco, Temasek's director for Mexico and Andean region, emphasized the need for consistency in the government's signals when it comes to talking about business; the message that is heard abroad, he said, is often different from the domestic one. MetLife Executive Vice President Mike Zarcone said his company was encouraged by the AMLO administration's focus on combating poverty and corruption, and that talks about investments in infrastructure are "very appealing" to the insurance company.
Liquidity is more of a pressure for other investors than it is for an insurance company like MetLife, says Zarcone. We want to invest in entities that will be there in the years to come. Talks about investment in infrastructure in Mexico are "very appealing" to MetLife. #mxASCOA411:26 AM – May 22, 2019Twitter Ads info and privacySee Americas Society/Council of the Americas's other Tweets
The second panel of the conference, moderated by Bloomberg's Juan Pablo Spinetto, was dedicated to the private sector and how it can be an ally for growth. The speakers focused on the digital gap and other kinds of inequality that exist in Mexico. Guilherme Loureiro, president and CEO of Walmart Mexico and Central America, stressed the importance of removing obstacles. "What we have to do in Mexico is give people access to banking services, internet, and digital commerce," Loureiro said. He also commented on the labor reform, which he said will give workers more rights. AT&T Mexico Vice President Mónica Aspe Bernal highlighted the need to increase competitivity and labor productivity to attract more investment. "56 million Mexicans gained internet access in a five-year period, which is evidence of investment. But there are still 30 million missing to close the digital gap," she said. She added that it was important to note that, even with this increased digital access, 70 percent of transactions in Mexico are still in cash, which underscores the opportunity to grow that digital access to financial services. Daniel Martínez-Valle, CEO of Mexichem, said he is optimistic about what Mexico can represent. Citing a report that said Mexico has the potential to become the world's fifth-largest economy in the world by 2050, he said, "We cannot lose sight of the fact that is a real possibility."
Mexico's "we work too many hours and don't get enough done" problem. #mxASCOA @ASCOAAmericas Society/Council of the Americas✔@ASCOAReplying to @ASCOAOut of the OECD countries, Mexico is the one that works the most hours, but has the lowest labor productivity. @ATTMx VP @maspeb points out that women are responsible for 75 percent of non-remunerated work, which puts them at a disadvantage in the labor market.#mxASCOA2212:47 PM – May 22, 2019Twitter Ads info and privacySee Carin Zissis's other Tweets
With 13 free-trade agreements providing preferential trade access to more than 50 countries, Mexico's economy is highly open and tightly linked to trade. The country's commercial flows track closely with the country's economic expansion, always pulling GDP growth along with it, as Vice Minister of Foreign Trade Luz María de la Mora Sánchez showed in her presentation. The problem, said the vice minister, is finding a way for domestic businesses and jobs to take advantage of Mexico's integration in the global trading system. She commended globalized businesses for offering some of the highest-quality jobs, and said it was a priority of the Economy Ministry to support them. De la Mora gave an overview of the country's principal export sectors and emphasized that Mexico needs to move away from manual labor on the lower end of the production chain and find a way to add more value to the global supply chain. She also discussed how the AMLO government is working to expand the participation of small- and medium-sized businesses.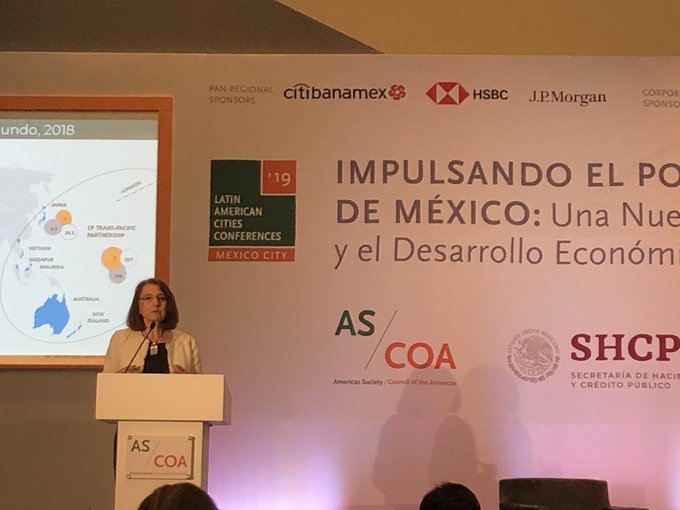 Source: www.as-coa.org
The Mazatlan Post