The president presents the Sembrando Vida program to plant timber and fruit trees to support producers; in this region 20 thousand jobs will be generated, says
As part of the impetus to the field, President Andrés Manuel López Obrador announced the start-up of the Sembrando Vida program in Córdoba, Veracruz, with which he seeks to prioritize support for Mexican producers and the countryside.
Accompanied by the governor of the entity, Cuitláhuac García, the head of the federal Executive explained that this measure will generate 20 thousand permanent jobs in the region with the planting of fruit and timber trees.
He explained that only in Córdoba will be planted 50 thousand hectares, while nationally 1 million hectares for the creation of 400 thousand permanent jobs.
"Planting Life is very important. All the producer who wants to plant timber or fruit trees, what is given here in the region, will have support, not only will the plant be given to plant, it will pay wages to be sown, "he said.
In explaining that it will review agreements on the sale of sugar abroad and the permits that were given to use adulterants coming from abroad, López Obrador assured that the free trade agreements will be respected, but the Mexican producer will be given priority.
"Yes, we want free trade and we will respect the agreements, but we will defend the national producer. First Mexico and then abroad, "he said.
He reiterated before the Veracruz that he will work to seek to end corruption, which, he said, has been the cause of the problem of insecurity that exists in the country.
"Corruption is the main cause of social and economic inequality, because of corruption, violence and insecurity were unleashed. We are going to put an end to corruption because there is a lot of money going through the pipeline of corruption, "he said in the city of Córdoba.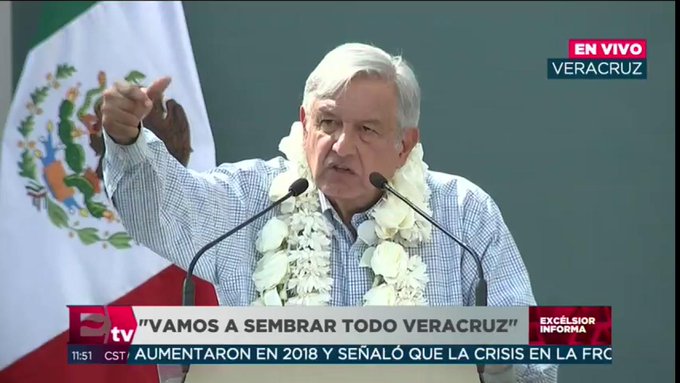 Source: Excelsior
The Mazatlan Post