The motorists that circulate on the roads of Sinaloa do it safely because there are very few potholes.
Mazatlan, Sinaloa.- problems are minimal bump showing the roads Sinaloa that at this time of year are frequented by domestic tourism, said the head of the service of Green Angels, Picos Ricardo Quintero.
The little presence of holes in the federal roads of the state said that they occur mainly on the highways, which represents at least 5%.
Said percentage of potholes, said that it is low in comparison to other years, which indicates that the communication channels that exist in the state are in perfect conditions.
He mentioned that the scarce rains that occurred in the year, were a factor in not registering "crumbling" in the asphalt of the federal highways of the region.
"The roads until now are in good condition, they are not totally destroyed as in previous years caused as a result of the rains."
Currently, he indicated that 85% of the tourism that makes use of the Sinaloa communication channels travels along the highway, while the rest do it by free.
Precisely, he said that the road Mexico 15 is chosen for the good conditions of its asphalt, but not for the speed to get to the place that its users go.
A few days before the celebration of Christmas, he said that the flow of tourists that circulate on the roads of Sinaloa has increased to 45% compared to 30% that was at the beginning of December.
He said that on the roads you can already see the presence of "paisanos" caravans, which at this time of the year are heading from the United States to Mexico to celebrate with their families the end of the year celebrations.
Green Angels FREE roadside assistance dial 078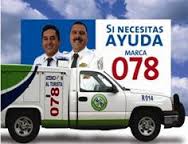 Source: El Sol de Mazatlan
The Mazatlan Post