Mazatlán, Sinaloa.- Together with the Secretary of Tourism, Miguel Torruco Marqués; the businessman José Eduvigildo Carranza and directors of Apple Leisure Group, an international hotel chain, the governor Quirino Ordaz Coppel laid the first stone of the Dreams Estrella del Mar hotel, which will be a complex of 350 rooms, Spa, Convention Center, and Theater, with an investment of 70 million dollars.
The state president thanked businessman Leovi Carranza, director of Grupo PINSA, the largest canned tuna producer in Mexico, which has ventured into the hotel industry because this represents confidence in this economic activity, which is the main one in Mazatlán.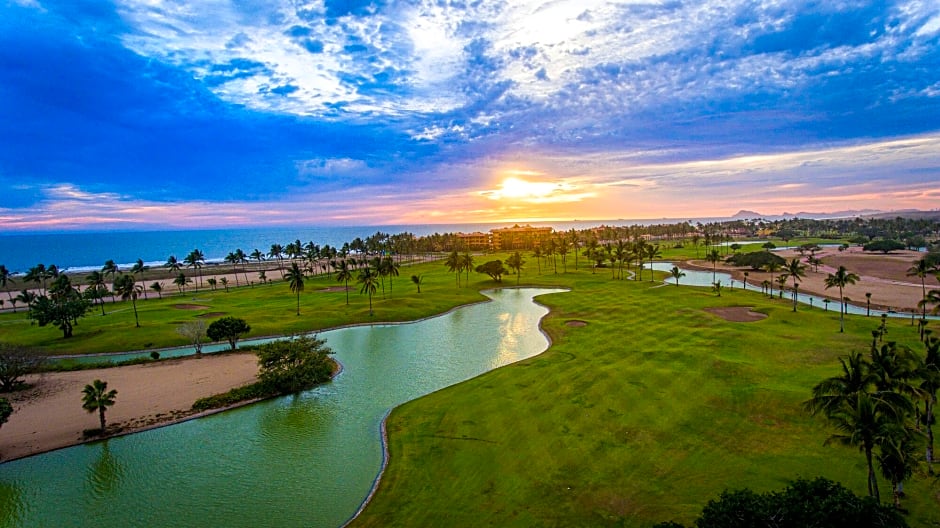 In the same way, it celebrated the union for this project of Dreams Estrella del Mar with Apple Leisure Group, because with this alliance, Mazatlán opens to the world with the attraction of international chains. "This is what has to be done, to Mazatlán and Sinaloa no one is going to stop it now because the vision of the future is already here present," warned the state governor.
Regarding this ambitious project in Estrella del Mar, Ordaz Coppel commented that it should have been invested here a long time ago, and not in the truncated Playa Espíritu project, where the million-dollar investment that Fonatur made did not pay off.
"The future of Mazatlán, a good sector is here, in what is the Isla de la Piedra, I hope the issue of land tenure will be unlocked so that it can emerge more, instead of having invested in Playa Espíritu, that is The truth of things, the investment should have come here to this area of ​​Mazatlán because it is part of the delay, Fonatur never arrived here, that great support that other tourist destinations did have never arrived here, "he said.
The state governor reiterated that Mazatlán is the tourist destination that has recovered the fastest during this COVID pandemic, and this is what has to be done, innovate and build trust among businessmen.
For his part, the Secretary of Tourism, Miguel Torruco Marqués, recalled that when he visited Mazatlán in 2012 with the then-candidate Andrés Manuel López Obrador, he had to call a meeting with the tourism service providers, and said that he saw a Mazatlán totally behind schedule.
"How good that with my good friend Quirino, the governor of the change in the image of Mazatlán, has already marked a milestone in the history of Sinaloa, a governor I admire, but above all, that I see a remodeled historic center, a viewpoint with investors , but I also see the great future not only of the integrated infrastructure of Mazatlán, but that it will be the base of the large modern ferries that we will launch in three or four months to visit the Marías Islands without lodging, which became a museum with a series of tourist attractions ", he advanced.
Secretary Torruco Marques added that this tourism option for trips to the Marías Islands will promote an additional overnight stay in Mazatlán, which will favor the reactivation of activity during this COVID pandemic, since tourism was precisely the most affected, since at the national level, Mexico registered a 46 percent drop.
The Dreams Estrella del Mar project consists of 350 rooms on a five-hectare site, with a construction of 60 thousand square meters and a beachfront of 300 meters, it will have five restaurants, six bars, four pools, a Spa, gym, yoga room, convention center for 700 people and a theater for 350 spectators, and its inauguration is estimated for December 2022.
The event was also attended by the businessman himself, Leovi Carranza, who welcomed, as well as the CEO of Apple Leisure Group, Alejandro Reynal; the chairman of the same group, Alex Zozaya, and the representative of the construction company HKS, Juan Carlos Pineda.
The governor and the Secretary of Tourism were also accompanied by their respective wives, Rosy Fuentes de Ordaz, and Gloria Garza de la Garza, as well as the Secretary of Tourism, Oscar Pérez Barros; and the Secretary of Economy, Javier Lizárraga Mercado.
Dreams Estrella del Mar Mazatlán
In a private residential community, it is where Dreams Estrella del Mar Mazatlán is born, which in its 374 hectares and facing the sea, is preparing to lose ourselves among its activities and enjoy everything that this resort of the Dreams family has prepared for us. Resorts & Spas.
For couples or families, this space will have a privileged location, with more than five kilometers of beach and a great proximity to the Mazatlán International Airport that will allow that when you arrive in the city, you are only a few minutes from your final destination.
The space of your dreams
With an elegant design where vegetation and nature will be the protagonists, you will be in a space inspired by the beauty of the Historic Center of Mazatlán and the region. The space will have 350 suites overlooking the Mexican Pacific where 29 rooms will be swim-up suites, so you can choose between enjoying your family days by the sea or in your room in front of the pool. In addition, if what you want is a space to enjoy without children, they have a special section for adults only , where you can enjoy more relaxation.
Fun, relaxation and business
For everyone's fun, it will have a water park and a lazy river with which you can take water rides. For relaxation, do not forget to visit the Spa and Wellness Center , where you will be surrounded by nature with private rooms and you can connect with the beauty of the environment between its terraces. They will have hydrotherapy with waterfalls, hydromassage tubs, panoramic sauna, Turkish bath and geysers that will guarantee you the best peace.
As a gastronomic offer, Dreams Estrella del Mar Mazatlán will have five restaurants with international specialties and six bars around the enclosure. In addition, they will have a theater, as well as an executive space, where you can make use of the convention center with a capacity of up to 700 people overlooking the golf course.
This course designed by Robert Trent Jones Jr. promises to be considered one of the best in the country, with more than 6,500 meters, 8 holes and strategic sand traps. In it, you can take classes, personalized clinics, or equipment rental thanks to the John Jacobs Golf School.
If you want to enjoy all that this resort offers, you can do so thanks to the Unlimited-Luxury pass, which will include the services of Dreams Estrella del Mar Mazatlán in a single pass and without reservations. This wonderful resort will be ready for the month of December of the year 2022, so go saving the date to meet it. Estrelladelmar.com
Currently, Estrella del Mar has a sanctuary and a conservation program that for 20 years has been dedicated to protecting sea turtles.
To learn more about the competitive advantage of Apple Leisure Group, visit www.algdesarrollo.com