The American band founded in 1973, makes its last tour "The End of The Road Tour"
Kiss said goodbye with love from the stages of Mexico on the first day of the metal festival Domination.
The American band founded in 1973 makes its last tour, End of The Road Tour, and closed on Friday night the first day of the metal festival with a concert that included its classics and a lot of pyrotechnics.
"Army Kiss have been with us since the beginning, we could not be here without you, we love you and thank you for all the years, thank you very much," said vocalist Paul Stanley, pronouncing the many thanks in Spanish, and then singing Do You Love Me towards the end of the concert.
During the presentation they also played their hits Black Diamond, Detroit Rock City and I Was Made for Lovin 'You , as well as pieces from their most recent albums like Say Yeah and Psycho Circus .
"I do not speak Spanish very well, but I understand your feelings, my heart is for Mexico," said Stanley . "We have come to Mexico for about 40 years, I love being here on stage but tonight I want to go out and be with you," he said later.
After starting their tour in January, Kiss will continue the farewell to Europe and the United States until December.
The band that complete Gene Simmons, Eric Singer and Tommy Thayer , nominated for the Grammy in 1998 for his song Psycho Circus , has a large following in Mexico who had bought their tickets months in advance and during the concert expressed their disbelief the fact of seeing for the last time the stars, famous for their makeup, platforms and special effects, including the blood that comes out of Simmons' long tongue.
During the concert Stanley took the opportunity to remember that they were incorporated in 2014, and 15 years after being eligible, to the Rock and Roll Hall of Fame, thanks in large part to their fans.
"The Rock and Roll Hall of Fame hates Kiss , it's true, but they had to listen to them, thank you, Mexico," Stanley said .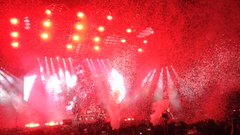 KISS!!! "End of the Road World Tour" Ciudad de México 2019711:37 – 4 may. 2019
During the day also it featured Limp Bizkit , with a concert in which they performed their classics like Take A Look Around , Rollin ' (Air Raid Vehicle) and Break Stuff as well as some songs from other bands like Smells Like Teen Spirit and Heart Shaped Box of Nirvana . At some point vocalist Fred Durst said, "Do not believe everything you hear, Donald Trump is not the president."
"I am very happy to be here I love Mexico, I love all our trips here, thank you very much, everyone is so nice, so kind, they have enromes hearts, a lot of passion, nobody can mess with Mexico, outside of Gene Simmons, the god of thunder in rock and roll, of course, " Durst said at another point, alluding to the song God Of Thunder by Kiss , which was also in the repertoire of this band.
The Slash, Parkway Drive, Vreid and Municipal Waste bands also performed during the day. The festival Domination continue on Saturday with performances by Alice Cooper, Apocalyptica, Lamb of God andDream Theater at the Hermnos Rodríguez Autodrome in Mexico City.
Source: AP, publimetro
The Mazatlan Post