Creamy Shrimp Enchiladas brings together fresh shrimp, shallots, red bell pepper, and garlic all wrapped up in a creamy Monterrey Jack cheese sauce.  Elegant enough for company yet easy enough for a weeknight.
WHY SHRIMP ENCHILADAS ARE PERFECT FOR YOU AND YOUR FAMILY.
Not everyone is a shrimp lover but for those of us who are this is a must-try.  These Easy Creamy Shrimp Enchiladas are a shrimp lovers dream and really only require about twenty-twenty five minutes and are worth every minute.  Fresh shrimp, sweet red bell pepper, jalapeno (don't panic the amount can be adjusted) garlic and shallots are all sauteed with just a tad of seasoning for just a couple of minutes.  This mixture is then rolled in flour tortillas.  Meanwhile, you are going to make a creamy cheese sauce with just a few ingredients including sour cream and Monterey Jack cheese.  They are popped in the oven for just a few minutes to brown off the cheese and reheat.  Sprinkle with fresh chopped cilantro and you are your loved ones are ready to chow.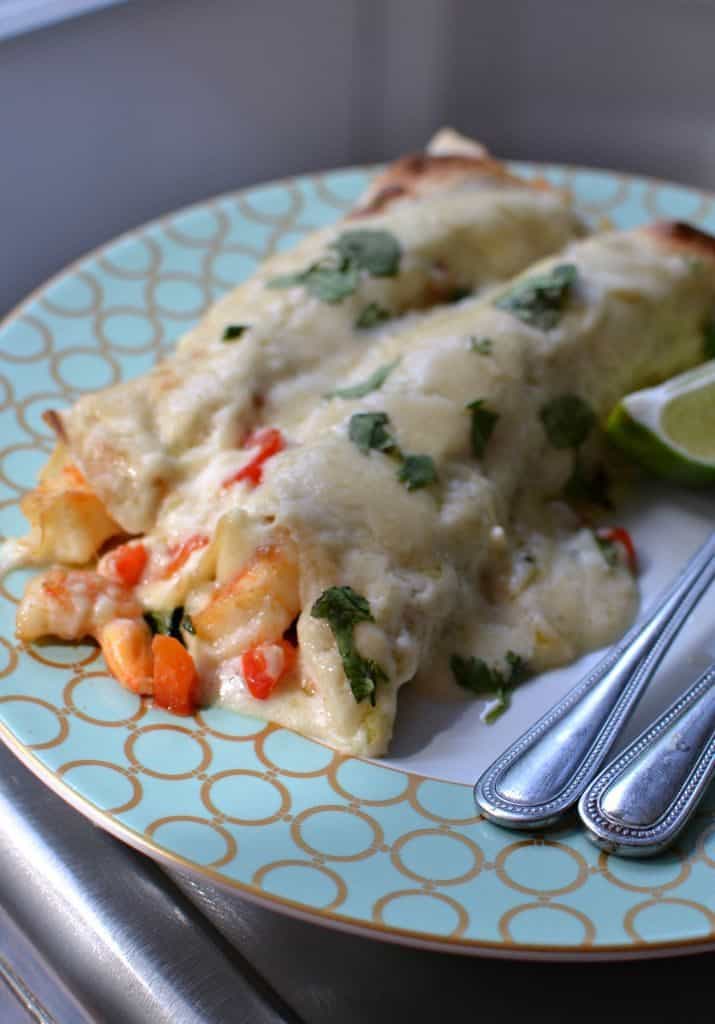 A COUPLE OF QUICK HELPFUL HINTS TO SEND THIS RECIPE OVER THE TOP!
If available use wild-caught shrimp.  They are better for you and in my opinion taste better.
Do not overcook the shrimp.  Things move pretty darn fast.
Use good quality flour tortillas.  They are worth the extra change
The cheese sauce comes together real quick so this recipe does not have much cushion in it for folding the laundry or making a phone call.
If you are in a super hurry skip the oven step.  Keep the shrimp mixture warm on a covered plate.  Wrap the shrimp mixture in the warm tortillas and drizzle with the cheese sauce.  That is the way we eat tacos around here.  We just fill them and plop so many on the first person's plate and keep the assembly line going until everyone has tacos. Now some of the family might be almost done by the time the last person is served but sometimes you just have to roll with the flow.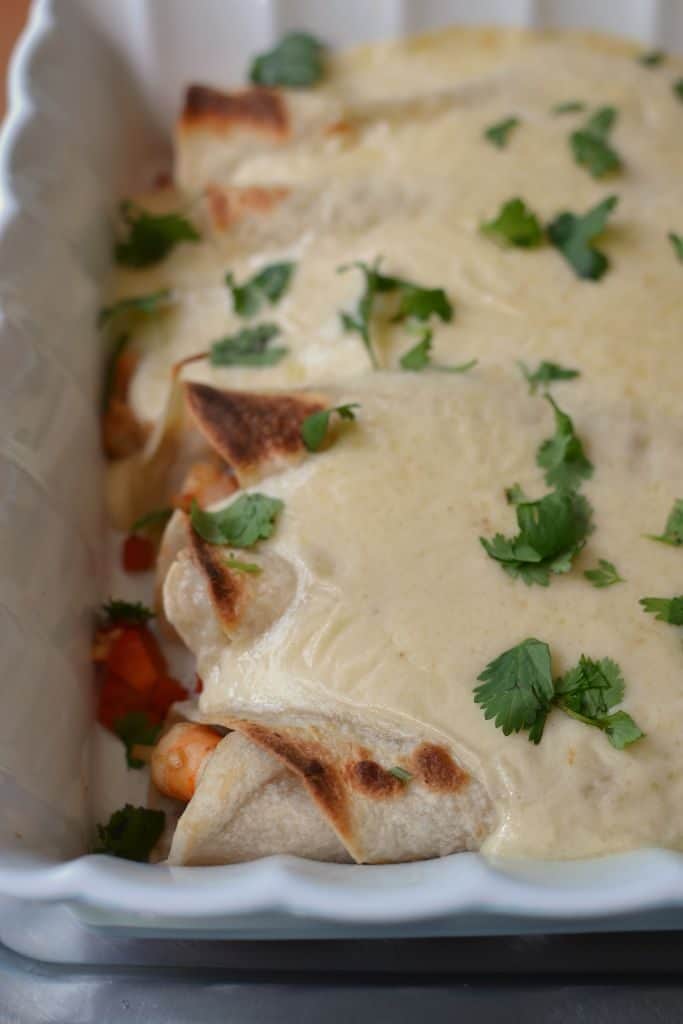 My daughter and I are huge shrimp fans! Here are some more scrumptious shrimp recipes for your enjoyment!!
OTHER SHRIMP RECIPES YOU WILL LOVE!
Give my delectable Easy Creamy Shrimp Enchiladas a try and let me know what you think! I would love to hear from you!

EASY CREAMY SHRIMP ENCHILADAS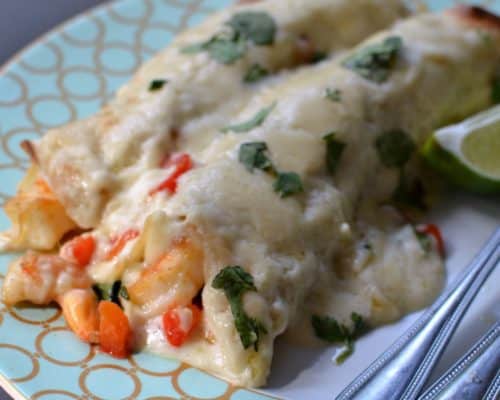 Creamy Shrimp Enchiladas bring together fresh shrimp, shallots, red bell pepper and garlic all wrapped up in a creamy Monterrey Jack cheese sauce.
Author: Small Town Woman
Prep Time: 20
Cook Time: 20
Total Time: 40 minutes
Yield: 6 1x
Category: Main Meal
Method: Stovetop and Oven
Cuisine: Tex Mex
SCALE1X2X3X
INGREDIENTS
1 tablespoon of olive oil
1 pound raw shrimp peeled deveined and cut in half
1/2 cup very thin sliced shallots
1 red pepper diced very small
1/2 jalapeno minced
2 cloves garlic minced
1/2 teaspoon cumin
6 (8 inch) flour tortillas
3 tablespoons butter
3 tablespoons flour
1 1/2 cups chicken broth
1/2 cup sour cream
1 cup shredded Monterey Jack cheese
2 tablespoons fresh chopped cilantro
INSTRUCTIONS
Preheat oven to 400 degrees. Spray casserole dish with nonstick cooking spray.
Heat olive oil over medium-high heat in a large skillet. Add shrimp, shallots, red pepper and jalapeno. Stir several times. Cook until shrimp are pink and centers of them are opaque; about 3- 4 minutes. Add the garlic and the cumin the last 30-60 seconds of cooking
Divide the shrimp mixture evenly between the tortillas, roll, and place in casserole dish.
In the same skillet over medium-low heat melt butter. Whisk in flour and cook for 2-3 minutes; whisking constantly. Slowly whisk in chicken broth and cook until slightly thickened; 2-3 minutes whisking constantly. Slowly whisk in Monterey Jack cheese until melted. Whisk in sour cream. Spoon over shrimp enchiladas.
Place in the oven for 7-10 minutes. Sprinkle with cilantro and serve.
NOTES
The oven step can be skipped and you can assemble and spoon cheese sauce over them as you serve them.
For more great recipes follow
The Mazatlan Post