Javier Larragoiti from Xilinat triumphed in the fifth edition of the Chivas Regal contest The Venture.
Amsterdam, The Netherlands.- Yes you can, yes you can! A Mexican under 30 years old beat 20 startups from around the world and took 350 thousand dollars from a general prize of one million dollars in funding in the fifth edition of the contest The Venture of Chivas Regal .

Javier Larragoiti convinced the judges with his Xilinat project, a company that transforms corn waste into a substitute for low-calorie, less-polluting sugar. The young Mexican presented his pitch in front of thousands of people and a prominent panel of judges with figures of the stature of Alexandre Ricard, global CEO of Pernod Ricard; Sonal Shah, executive director of The Beeck Center for Social Impact and Innovation; Cemal Ezel, founder of Change Please, a project that trains people in street situations to be baristas and winner of the 2018 edition of The Venture, and Zoe Saldana , actress and founding entrepreneur of the BESE platform, a digital brand that seeks to combat the lack of diversity in the media.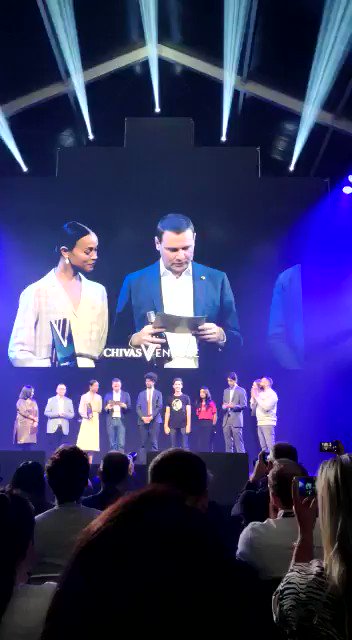 With his award, the entrepreneur will modernize his production process to take his product to stores throughout Mexico. The Mexican had four months of preparation since his victory in the final in Mexico in January, a process that included an acceleration in London where he learned to present his business idea in English and to land his proposal. 
Photos: Martha Elena Violante
The other participants
Speak from Portugal: Hugo Aguiar developed a linguistic and cultural platform that helps connect people in order to bring refugees and migrants from social exclusion.
Copy of the United States : Komal Ahmad wants, in his own words, "to solve the most stupid problem in the world": hunger. He says this because he detected that thousands of tons of food is wasted every day in the same place. If project connects the places where you could throw food in perfect condition (such as restaurants) with agencies that could make good use as shelters for battered women or dining rooms for people in street situations.
TYKN from the Netherlands: Tey Al-Rjula is a Syrian refugee who identified the serious problem faced by people who, like him, have lost all their identity documents due to the war (such as birth certificates and passports). Through its platform, Tey seeks to connect refugees with the countries they enter to identify themselves, access health systems and, in general, stop being "invisible people". Syntoil from Poland: Martyna Sztaba's project transforms tires and used rubber into industrial products to reduce carbon emissions.
Source: entrepreneur
The Mazatlan Post