The president of Spain was transported to the College of San Ildefonso, where a meal was held in his honor, in the famous car of Andrés Manuel López Obrador
President Andrés Manuel López Obrador received at the National Palace his counterpart from the government of Spain , Pedro Sánchez Pérez-Castejón , as part of an official visit by the Spanish president to our country.
This is the first foreign president to make an official visit, after 60 days of Lopez Obrador taking office as president of Mexico.
Mexico and Spain commemorated the 42nd anniversary of the relaunch of diplomatic relations and 80 years of exile of the Iberian community in our country.
In this framework,  President Andrés Manuel López Obrador stressed that both nations agree on the goal of achieving economic growth with well-being.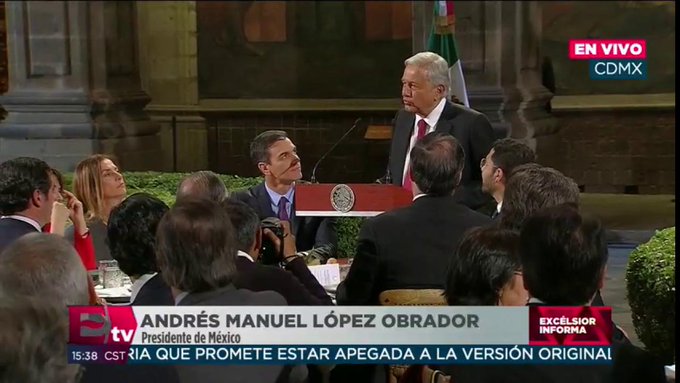 The president of the government of Spain, Pedro Sanchez, caused a sensation in networks to be seen in the famous jetta white Andrés Manuel López Obrador.
Both presidents got into the car and left the National Palace in the direction of the food offered by the Mexican president in honor of Sánchez Pérez-Castejón.
During this meeting, the leaders reaffirm their commitment to the development of the Central American region and to the Integral Development Plan for Central America promoted by Mexico, in which El Salvador, Guatemala and Honduras also participate, and to which Spain now joins.
Likewise, they agreed on a set of actions to renew the close political, economic and social ties between Mexico and Spain, and collaborate in the face of major regional and global challenges.
Source: Excelsior, El Debate, Mexico.News
The Mazatlan Post