Three people used burned clothes and gas cans during the Putleco Carnival in Putla Villa de Guerrero.
This weekend the traditional Putleco Carnival took place in Putla Villa de Guerrero, Oaxaca, where the villagers disguised themselves as Copalas Indians wearing colorful clothes and made a tour of the town. 
However, there were those who stole the attention for their disguise as burned huachicoleros, which caused indignation on the part of some people. 
Three men broke tradition and wore trousers, shirts and wigs burned, with body and face painted black, alluding to the victims of the explosion in Tlahuelilpan, Hidalgo . 
The men carried drums for gasoline and were photographed by the attendees who shared the images on Facebook. 
Some of the users took it with humor while others harshly criticized the photos and described them as "disrespectful" and "insensitive".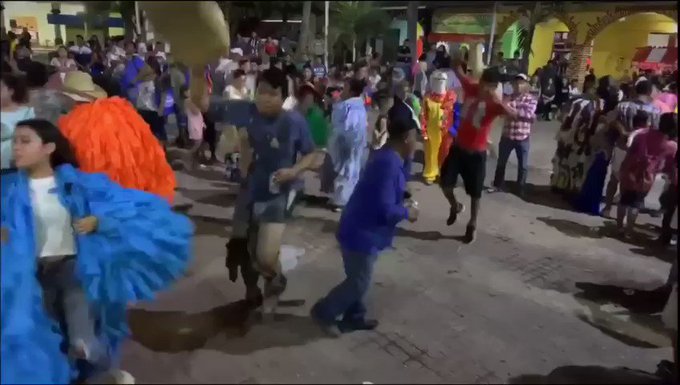 "Please, this is too much. Everyone deserves respect, even though they were to blame, more for the deceased and their families ", Not all were thieves "," The black humor that characterizes us Mexicans. Sometimes it can be as corrosive as acid, "were some of the comments they posted on the images.
The disguises divided opinions, because while many asked them to take photographs with them and took it with humor, others described it as a lack of respect that made fun of it, because it referred to the recent explosion in the pipeline of Tlahuelilpan, Hidalgo, that left more than 110 dead.
The Putleco Carnival has been held for some years, and has attracted attention due to the large number of people attending in disguise.
It is common for people to gather in groups and with the "Carretillazo", which is a horn placed on a wheelbarrow, begin their journey through Putla.
According to a note from "El imparcial" , this party is considered the second largest in Oaxaca after the Guelaguetza.
Source: Milenio, Mientrastantoenmexico
The Mazatlan Post