Current situation:"NARDA" has weakened Tropical Depression,  is located on land near the municipality of Pihuamo, Jal. It is projected that it moves over the states of Colima, Jalisco, and Nayarit, during this day and entering the Pacific Ocean again tomorrow, causing a potential for heavy rains to torrential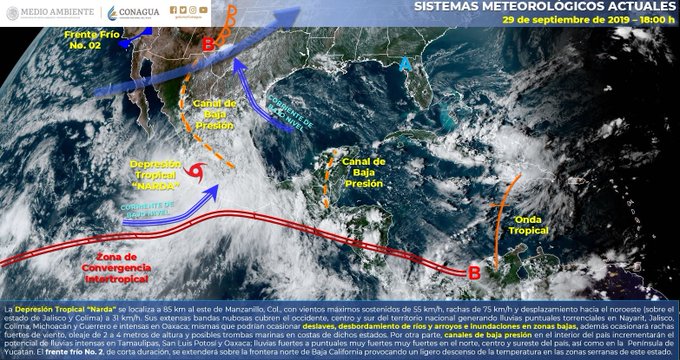 Actual Conditions
Local time (GMT time)
4:00 p.m. (9:00 p.m. GMT)
Cyclone Center Location
North Latitude: 19.1 °
West Longitude: 103.5 °
Distance to the nearest place
On land in the vicinity of Pihuamo, Jal., And 85 km east of Manzanillo, Col.
Surveillance zone[It is established in coordination with the CMRE-MIAMI]
The tropical storm surveillance zone has been discontinued from Acapulco, Gro., To Cabo Corrientes, Jal.
Current Displacement:
To the northwest (315 °) at 31 km / h
Maximum winds [km / h]:
Sustained: 55 km / h
Streaks: 75 km / h
Minimum central pressure [hpa]:
1002 hPa
Rain forecast
Heavy rains at torrential points (150 to 250 liters per square meter) in Nayarit, Jalisco, Colima, Michoacán and Guerrero.
Heavy rain at very strong point (50 to 75 liters per square meter) in Aguascalientes, Sinaloa, Durango, State of Mexico, Mexico City and Morelos.
Additional comments
Wind with gusts greater than 70 km / h in Jalisco, Colima and Michoacán; and wind with gusts greater than 60 km / h in areas of Nayarit and Guerrero, in addition to waves of 2 to 4 meters on its coasts.
recommendations
Take precautions to the general population in the areas of the states mentioned by rain, wind and waves (including sea navigation) and comply with the recommendations issued by the authorities of the National Civil Protection System in each entity.
Quadrant Extension Of Wind And Wave Radii
4 m swell
0 km NE
335 km SE
0 km SW
0 km NO
FORECAST VALID A
DAY / LOCAL TIME TIME CENTER
NORTH LATITUDE
LONG WEST
WINDS [Km / H]
CATEGORY
LOCATION (In Km)
30/01
20.8
105.2
45/65
Tropical depression
On land, 65 km northeast of Cabo Corrientes, Jal.

30 / 13h
23.0
106.9
45/65
Tropical depression
At sea, 55 km west-southwest of Mazatlan, Sin.

01/01
24.7
108.4
55/75
Tropical depression
50 km west of Altata, Sin.

01 / 13h
25.7
109.5
65/85
Tropical storm
45 km west-northwest of Topolobampo, Sin.

02 / 13h
28.5
110.5
55/75
Tropical depression
On land, 75 km north-northeast of Guaymas, Son.

Prognostic trajectory of the Tropical Depression "NARDA"
Notice No.
CDT Local Date / Time
The T. North
Long. West
Closest Distance (Km)
Max Wind / Streaks
Category
Advance
01
Sep 28 / 10:00
14.9
100.4
230 km south-southwest of Acapulco, Gro., And 320 km west-southwest of Lagunas de Chacahua, Oax.

55/75
Tropical depression
To the northwest (315 °) at 20 km / h
02
Sep 28 / 10:00
14.9
100.4
230 km south-southwest of Acapulco, Gro., And 320 km west-southwest of Lagunas de Chacahua, Oax.

55/75
Tropical depression
Stationary.
03
Sep 28 / 4:00 PM
15.0
100.0
210 km south of Acapulco, Gro.
275 km west-southwest of Lagunas de Chacahua, Oax.

65/85
Tropical storm
To the northwest (320 °) at 15 km / h
04
Sep 28 / 7:00 PM
15.1
100.3
195 km south-southwest of Acapulco, Gro.

65/85
Tropical storm
To the northwest (320 °) at 13 km / h
05
Sep 28 / 10:00 PM
15.4
100.6
185 km south-southwest of Acapulco, Gro.

65/85
Tropical storm
To the northwest (315 °) at 15 km / h
06
Sep 29 / 01:00
15.9
100.9
155 km southwest of Acapulco, Gro.

65/85
Tropical storm
Northwest (315 °) at 15 km / h
07
Sep 29 / 4:00
16.0
101.0
155 km southwest of Acapulco, Gro. and 200 km south-southeast of Zihuatanejo, Gro.
75/95
Tropical storm
Northwest (315 °) at 13 km / h
08
Sep 29 / 07:00
16.6
101.4
120 km south of Zihuatanejo and 160 km west-southwest of Acapulco, Gro.

75/95
Tropical storm
Northwest (315 °) at 13 km / h
09
Sep 29 / 10:00
18.1
102.1
On land, 15 km northeast of Lázaro Cárdenas, Mich, and 250 km east-southeast of Manzanillo, Col.

75/95
Tropical storm
To the northwest (325 °) at 24 km / h
10
Sep 29 / 1:00 PM
18.7
103.1
130 km northwest of Lázaro Cárdenas, Mich., And 160 km east-southeast of Manzanillo, Col.

65/85
Tropical storm
To the northwest (325 °) at 26 km / h
eleven
Sep 29 / 4:00 PM
19.1
103.5
On land in the vicinity of Pihuamo, Jal., And 85 km east of Manzanillo, Col.
55/75
Tropical depression
To the northwest (315 °) at 31 km / h
THE FOLLOWING NOTICE WILL BE ISSUED AT 7:15 PM TIME FROM THE CENTER OR BEFORE SIGNIFICANT CHANGES OCCUR
Source: conagua
The Mazatlan Post