Valencian, Mediterranean, mixed and Mountain Paella, among other forms of elaboration, will be able to taste during the twentieth edition of the Paella Festival of Finca Sala Vivé by Freixenet in Querétaro
The Director of Public Relations of Finca Sala Vivé, Meritxell Ricarte, informed that the art of tasting a good paella will be the ideal moment to pair that culinary experience with a wine of the region in the next one to Fair of the Paella in Querétaro wine house to be held on May 25 and 26.
Escape the routine and the city is always a good idea, so the Festival de la Paella is an opportunity for it, where sparkling wines are a perfect match for this traditional dish, "he fancied.
He also mentioned that, as every year, the traditional paella competition will take place, where more than 30 national and international chefs will compete for the first place in various categories, the first place being a trip to Valencia Spain, to represent Mexico in the International Valencia Paella Contest of Sweden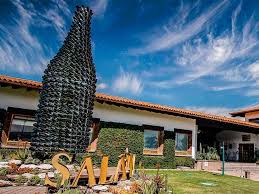 A jury composed of renowned chefs, critics and gastronomic leaders will take into account the presentation, taste and originality to choose the winning paella, "he said.
In addition to the visit to Finca Sala Vivé -located in the municipality of Ezequiel Montes- and the deepest cava in Latin America, during the Paella Festival 2019 there will be different artistic and cultural activities such as flamenco performances, a special area for children, a bazaar of design and craft products of the region.
As a main course there will be the giant paella, prepared by 20 chefs who will occupy more than 100 kilos of rice, 250 kilos of meat, 150 kilos of vegetables and spices.
The Director of Public Relations of Finca Sala Vivé, the most important in state production, invited to live this unique experience in the semi-desert of Queretaro.
Source: amqueretaro
The Mazatlan Post