The Mexican Embassy in Ireland is pleased to inform that the "Cuauhtémoc" School Ship will visit the port of Dublin again from September 5 to 10, within the framework of its instructional cruise called "Northern Europe 2019" that contemplates visiting 15 ports in 10 countries (Canada, United Kingdom, France, Netherlands, Denmark, Norway, Germany, Ireland, Spain and Colombia).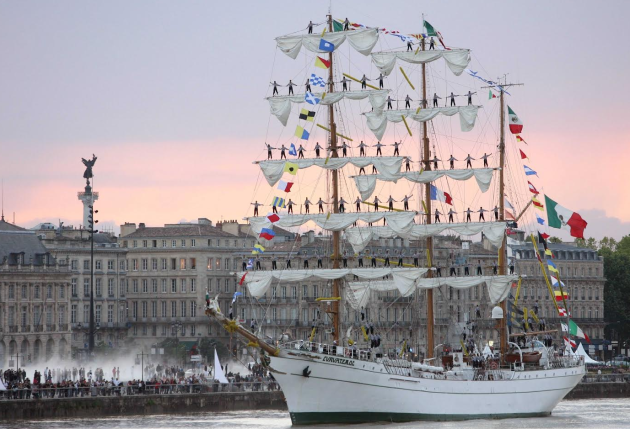 This will be the fifth time that the "Ambassador and Knight of the Seas" arrives in Ireland. The previous visits took place in 1998, 2008, 2012 and 2015. 
The Cuauhtémoc School Ship was built in the Shipyards and Workshops of Celaya, in Bilbao, Spain and since 1982 it has sailed the oceans and seas of the world, forming more than thirty generations of Captains, Officers, Cadets and Classes and Mariners, both Mexicans as of other nationalities. 
The 'Cuauhtémoc' carries out this year its instructional cruise with a crew of 257 sailors. Onboard also special guests of the Army and Air Force travel, as well as nine friendly nations. 
The instructional cruise will have a total duration of 250 days of crossing, of which 165 will be sailing and 85 in port, in addition to participating in four nautical festivals: 
Titanic Maritime Festival of Belfast 2019.
"Liberty Tall Ships Regatta" in France and the Netherlands.
"Tall Ships Reace 2019 Regatta" in the ports of Denmark and Norway.
"Hanse Sail Rostock Festival 2019" in Rostock, Germany. 
The Commander of the Vessel School is the Captain of the General Corps Diploma of Staff Carlos Gorraez Meraz, Naval Science Engineer graduated from the Heroic Military Naval School. 
The Cuauhtémoc will dock at Sir John Rogerson's Quay and, following its long tradition of hospitality, will be open to the general public for free visits inside the ship at the following times: 
Friday, September 6: 11:00 a.m. to 8:00 p.m.
Saturday, September 7: from 11:00 a.m. to 8:00 p.m.
Sunday, September 8: 11:00 a.m. to 8:00 p.m.
Monday, September 9: 11:00 a.m. to 8:00 p.m.
For more information on the "Cuauhtémoc" and your current trip you can consult the Velero Magazine .
Source: embamex.sre.gob.mx
The Mazatlan Post